---
The bay in Zihuatanejo, Mexico bay offers safe haven from storms and is a favorite with boaters of all types. Within the bay are 5 main beaches: La Playa del Puerto aka La Playa Principal (located in front of the town itself), Playa La Madera (a 5 minute walk from town), Playa La Ropa (5 minutes from town by car or about a 25 minute walk), Playa Las Gatas (at the extreme southern end of the bay; accessible by water taxi from the pier or a footpath along the rocky coast from La Ropa, there is no road), and Playa Contramar (at the northwestern end of the bay: accessible by boat or footpath). Not only do we have some of the most beautiful Mexican beaches, but some of the most beautiful beaches in the world!
Note: In the interest of preserving our marine ecology we ask that you please not take live sea creatures for your collection. We have many shellfish, starfish, sand dollars, sea urchins, corals and other marine life which we hope you will respect and appreciate in their natural habitat. Pass it along!
Playa La Ropa



CLICK ON PHOTOS TO ENLARGE THEM
The main beach for swimming in Zihuatanejo is Playa La Ropa which is about a mile long with usually mild waves making it perfect for swimmers and non-swimmers alike. It's usually possible to bodysurf the 1 to 3 foot waves there on a normal day. Along with a few hotels, small inns and various vacation rentals, there are several restaurants on Playa La Ropa: Rossy's being one of the favorites as much for its fresh seafood as for its sundeck and beach palapas. Dine with your toes in the sand!
---
Playa Las Gatas
CLICK ON PHOTOS TO ENLARGE THEM
If you like snorkeling then Playa Las Gatas is ideal whether you're a beginner or an old-hand. It is accessible either by footpath along the coast from the end of Playa La Ropa or by water taxi for 40 pesos round trip from Zihuatanejo's municipal pier. The boats run from 8 AM until 5 PM. Save your return-trip ticket! Playa Las Gatas was named for a type of inoffensive shark that used to be found there but unfortunately no longer is. It has a reef that, according to legend, was built by the a Tarascan king, and which forms a haven from the waves, although surfers can sometimes be seen catching waves as they curl around the entrance to the bay. Las Gatas has over a dozen restaurants specializing in seafood, so it can be a little confusing trying to decide where to throw your towel. Near the beginning of the beach is a great little place called "Chez Arnoldo" where my friend Noyo and his family run a tight ship! Good service, great food, and an unbeatable view of Zihuatanejo with the Sierra Madre del Sur as a backdrop. Rather breathtaking even for the locals! At the very end of Las Gatas Beach you'll find the Las Gatas Beach Club: a nature preserve in a South Seas style setting. It feels very much like paradise there all the time! Be sure to ask about the paved walkway to the lighthouse (El Faro) if you want to see a really spectacular view from its cliffs of the coastline from Ixtapa to Los Morros de Potosí.
---
Playa Contramar
CLICK ON PHOTOS TO ENLARGE THEM
(top & bottom right photos courtesy of Villas El Morro)
Playa Contramar is a beautiful place to snorkel but the beach is made up of surf-polished rocks and not sand. It's recommended to go there by boat and take a lunch. There is no reliable restaurant there but the coral and rock formations underwater are well worth seeing (look for the tunnel!). Unfortunately the developers of the surrounding lands have been allowed to modify the beach so that it no longer has its natural look.
---
Playa La Madera
There are two small beaches between Playa La Madera and Playa Principal: Playa Lerdo de Tejada and Playa Manzanillo. Lerdo de Tejada is the smallest and sits between Playa Principal and Manzanillo. Playa Manzanillo is the larger of the two and sits between Lerdo de Tejada and La Madera.


Playa Lerdo de Tejada
(Playa La Almeja)

Playa Manzanillo
(Playa Caracol)

CLICK ON PHOTOS TO ENLARGE THEM
The waves are usually good for bodysurfing at Playa La Madera where you can wade out quite a distance before reaching the breaking waves. There is a waterfront walkway from the Playa Principal (Playa del Puerto) that passes several small picturesque coves. There are several restaurants where you can enjoy fresh seafood and cold refreshments. Enjoy the shade under their palapas and get serenaded by passing troubadors.
---
Playa Principal
(Playa Municipal or Playa del Puerto)

Playa Principal

Playa Principal

Fishermen at Playa del Puerto

El Muelle Municipal

Fishing Boats at Playa Principal

El Muelle Municipal
ABOVE: CLICK ON PHOTOS TO ENLARGE THEM
BELOW: DRAG THE PANORAMA FROM SIDE TO SIDE WITH YOUR CURSOR
CLICK THE BUTTON IN THE UPPER RIGHT CORNER TO SEE FULL SCREEN
YOU CAN ALSO ZOOM IN TO SEE DETAILS

Fishermen catch jack crevalle on the Playa Principal while the morning sun's rays spread across Zihuatanejo Bay.



A wide-angle panorama shows long shadows and fishing boats on the beach at La Playa Principal as the sun rises.

La Playa Principal (aka La Playa Municipal or La Playa del Puerto) is the beach in front of downtown Zihuatanejo. At one end there is El Muelle Municipal (the Municipal Pier) where you can catch a water-taxi to Playa Las Gatas or charter a fishing boat, and at the other end is El Museo Arqueológico de la Costa Grande where you can learn about local pre-Columbian history.
The beach isn't the best place for swimming due to the proximity of so many fishing boats and their associated pollution, as well as drainage from the pluvial canal, though it's not that bad usually except after rainstorms. You'll find a walkway running the length of the waterfront called "El Andador del Pescador" (Fisherman's Walk) where many good seafood restaurants can be found. Please see my RESTAURANTS page for recommended eateries.
---
Playa Manzanillo
CLICK ON PHOTOS TO ENLARGE THEM
Another fairytale beach is Playa Manzanillo which is located in the Bahía de Potosí between Playa Larga and the mouth of the Zihuatanejo Bay. It's possible to walk there but only for the stout and sturdy and adventuresome. It's much more convenient to hire a boat at the pier. If my friend Hector Olea is available he'll prepare a lunch right on the beach for you with either what he catches on the way over, or a fresh market-bought fish (usually the former). The bay at Manzanillo is perfect for snorkeling or simply enjoying the unspoiled beauty of millions of years of evolution with the spectacular view of the guano-covered islands called Los Morros de Potosí which resemble a pair of half-submerged elephants (with a little imagination), a favorite hiding-place for pirates in days of yore.
The government's local land development agency known by its acronym FIBAZI has plans to privatize and develop this little parcel of paradise. Help us to save it and preserve it as a park by writing to the Mexican government's Secretary of Ecology and Natural Resources known by its acronym SEMARNAT. Hopefully they can do something to help save this beautiful natural treasure.
---
Playa Larga, Playa Blanca & Barra de Potosí

Los Morros de Potosí

View from el Cerro de Guamilule


(COURTESY OF CASA FRIDA)


Playa Larga



El Cerro del Guamilule

Playa Larga / Playa Blanca

La Barra de Potosí

Laguna de La Barra de Potosí


Barra de Potosí & Cerro de Guamilule

ABOVE: CLICK ON PHOTOS TO ENLARGE THEM
BELOW: DRAG THE PANORAMA FROM SIDE TO SIDE WITH YOUR CURSOR
CLICK THE BUTTON IN THE UPPER RIGHT CORNER TO SEE FULL SCREEN
YOU CAN ALSO ZOOM IN TO SEE DETAILS
Playa Larga, Playa Blanca & Barra de Potosí
If you fly in in the daytime you can't help but see a 8.2-mile long beach that actually has two names depending on which part of the beach is being referred to: the northern half is called Playa Larga and the southern half is called Playa Blanca. The extreme southern end of Playa Blanca is also known as La Barra De Potosí where there is a small fishing village adjacent to a large lagoon and where boat tours are available for VERY reasonable prices. The endangered white pelicans, roseate spoonbills, and great blue herons can still be seen there. Don't forget your camera!
All three beaches have numerous enramada (palm frond-covered) seafood restaurants, many with hammocks, perfect for spending a day at the beach with family and friends. There are also numerous guest lodgings and private homes along the length of these contiguous beaches.
Playa Larga is accessible via a paved road from the Carretera Nacional 200 just a few miles south of Zihuatanejo. Playa Blanca is accessible via the paved road on the right just before the entrance to the airport. La Barra de Potosí is accessible via the Playa Blanca road or via a mostly paved road from the small village of Los Achotes, located on Carretera Nacional 200 about 10 miles south of Zihuatanejo.
---
Playa El Palmar
CLICK ON THE PHOTOS TO ENLARGE THEM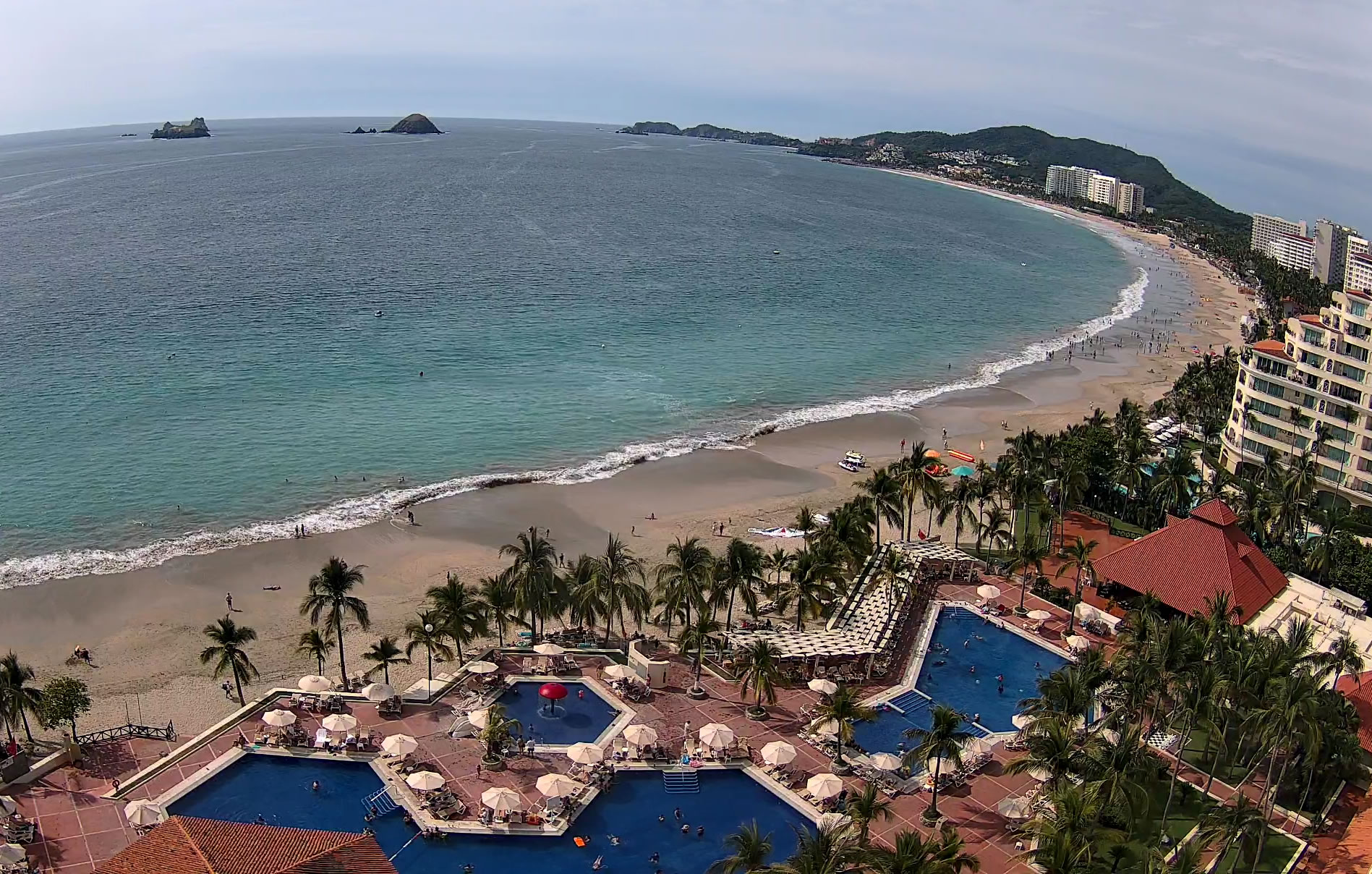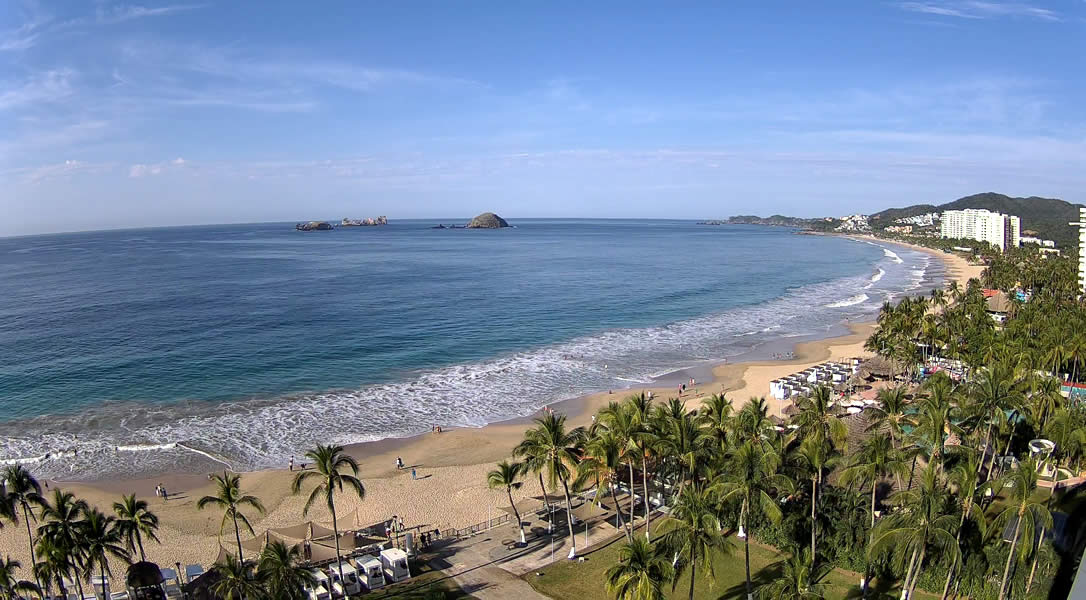 LIVE WEBCAM OF PLAYA EL PALMAR
(the upper image will update itself every 15 seconds, for the lower image you must refresh the page)
The main beach in Ixtapa is called Playa El Palmar and if you like a beach lined with high-rise hotels then this is for you. There is a smaller somewhat secluded beach fronting the Las Brisas Hotel called Playa Vista Hermosa which is semi-private and accessible through the hotel's property.
---
Isla Ixtapa (Isla Grande)

Isla Ixtapa

Playa Cuachalalata at Isla Ixtapa
(COURTESY OF OWEN LEE)

Playa Coral

Playa Coral

Playa Coral

Playa Varadero

Playa Varadero
(COURTESY OF ADVENTOURS)

Playa Varadero
CLICK ON THE PHOTOS TO ENLARGE THEM
Very near Ixtapa is an island called Isla Ixtapa which is accessible by water-taxi for 40 pesos round-trip from the pier at Playa Linda. It's a little crowded with restaurants and boaters, but I would still recommend it for snorkeling. There is a restaurant at the far end of Playa Varadero, the second beach on the north side, called "El Paraíso Escondido" which I recommend as much for its food as its serenity. Be sure to keep an eye out for the small deer which inhabit the island.
---
Troncones

Playa Troncones


(COURTESY OF ANITA LAPOINTE)


Playa Majahua
(COURTESY OF ERNIE GORRIE)

Playa Manzanillo (from south end)


Playa Manzanillo (from north end)
(COURTESY OF CASA LAS TEJAS)

CLICK ON THE PHOTOS TO ENLARGE THEM
There are numerous other beaches in the area, one of the most popular being Playa Troncones, a 3½ mile long beach about a 40-minute drive north of Zihuatanejo along the coastal highway. There are several beautiful unspoiled coves at the southeastern end.
Going northwest from Playa Troncones you come across Playa Manzanillo (not to be confused with the other Playa Manzanillo mentioned above) and Playa Majahua. Both are popular places with surfers.
Remember that there can be dangerous waves and strong undertows at all beaches fronting the open ocean. The safest places for swimming are in Zihuatanejo's well-protected bay and the sheltered coves at Isla Ixtapa.
---

visits since 16 OCT 1999